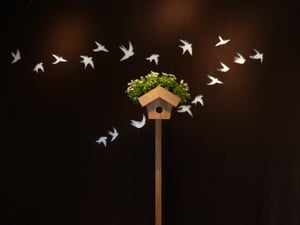 €

222.00
aforestdesign presented through " The birdwachers" installation in Lisbon its newest design, a bird's nest with a rooftop vase where you can plant or sow.
It is handmade using oak wood.
The water is drained by holes on the sides of the roof
and the roof's inside is isolated with rubber.
There's an opening in the bottom to allow you to clean the nest.
The nest can be hanged on the wall or sustained by a pole ( sold separately).
The wood is treated for outdoor usage.
Delivery in ten days.
For special orders please contact us by email : main(at)aforest-design.com.